La Rambla is a main street situated in the center of Barcelona, with an important pedestrian part, which connects Plaça Catalunya to the Christopher Columbus monument.
This large avenue is built on the bed of the former Malla stream. Walls and several convents were first built along this stream, but many were destroyed during an anticlerical riot in 1835. In fact, the Teatre Liceu is located in what used to be a convent. Year after year, other changes have been made such as plane trees, fountains, or even Japanese elements!
Walk along from Plaça Catalunya to the Old Port and discover details that you should not miss!
1- Drink water from a magic fountain: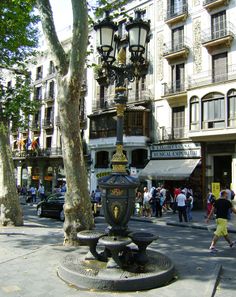 According to tradition, visitors who drink the water of the Canaletes fountain will come back to Barcelona. It is also the meeting point for all Barça celebrations.
It has been there since 1892, but don't confuse this with the other Magic Fountain in Montjuïc.
2- Learn the history of Barcelona on its walls: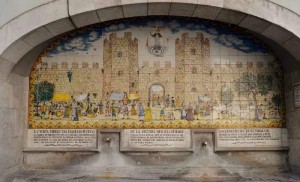 If you take the Portaferrissa Street, on the left side of the Rambla and at the corner of the Palau Moja, you will discover the history of Barcelona when it had walls. 
3- Do you know the Japanese side of Barcelona?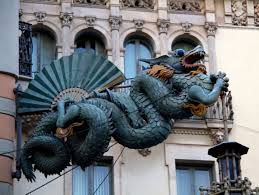 Have you seen the mysterious Japanese dragon with an umbrella and lantern?
Next to the Liceu Metro station, near the Boqueria Market, look up to see an art deco sculpture at the corner of a building: a Chinese dragon holding a lantern and overhanging an umbrella.
If you look around balconies, you will also see paintings very colourful paintings with particular forms. At that time the style of Catalan modernisme grew strong and the taste for oriental decorations became fashionable.
The architect, Josep Vilaseca, created these decorations to promote a shop of umbrellas, located just below him. Nowadays the shop has been converted in a bank.
4- Walk on the Mosaic of Miró: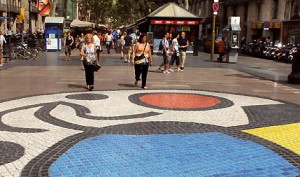 Just in front of the Umbrella shop, on the floor… have you already walked on this big mosaic done with basic colors (blue, red, yellow)? This pavement art was designed in 1976 in a unique recognizable style by Joan Miró. He chose this site as it was near the house where he was born, Passatge del Crèdit.
5- Visit The Teatre Liceu (worth it or not?):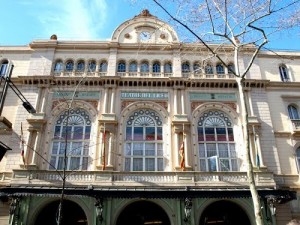 You could easily pass by its facade without even realizing how impressive is it inside. Its horseshoe-shaped Italian-style five-tiered auditorium with a capacity of 2000 seats is a spectacular arena to enjoy opera, ballet and classical music. It is also the oldest Opera in the city and one of the biggest in the world.
But which one do you prefer? Teatre Liceu, really impressive, or the Palau de la Música Catalana, really unique? We let you visit both and tell us.
6- Look at the Plaça Reial with an optical effect: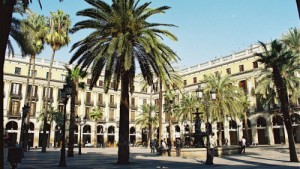 In a neoclassical style, the Plaça Reial has something to hide. At a first look you can think that this place is quadrangular. With its palm trees, arches, lanterns and central fountain (the two last items designed by Gaudi), your attention is normally focused on all these beautiful pieces which are composing it, and you may miss that it is actually trapezoidal, with larger distance between two sides. Come to see this Gaudi´s arts and have a drink in any terrace of this square.
7- Enjoy a colorful façade: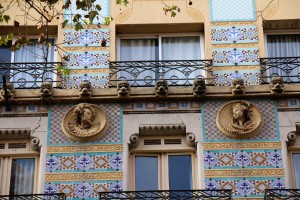 The façade of the "Hotel Las Ramblas" most iconic boulevard is reflective of the colorful architecture on display in the Catalan city.
If you like it, you will also like sgraffiatos (decorated walls) spread out in the entire city, read our article on it and don't miss the beautiful Casa de la Seda.
8- Listen to the green parrots: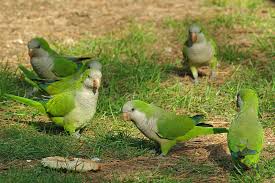 If you stop in the middle of the Rambla, you will certainly hear birds. These are green parrots. They were introduced in Spain as a pet in the 70's but were released by their owner because they were too noisy. From the first 50 birds, now there are 2000 in Barcelona and can even be agressive, especially if you have tomatoes for lunch, their favourite meal!
9- Meet the Fairy: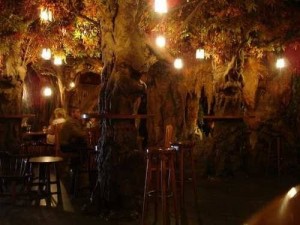 At the end of the Rambla, close to the Wax Museum, there is a mysterious place, with its trees, special night light, sound of nature, fairies and most of all, delicious mojitos which take you to a fantasy world. Do not be afraid to enter and discover them… they are waiting for you!
10- Avoid pickpockets!
And last but not least… be aware of pickpockets! They are not a secret thing to notice but here they are, as in any touristic city. So if you want to have a great memory of Barcelona, you are been warned!
What is your favourite spot in la Rambla?
Enjoy your trip in Barcelona!